For dummies
One single exe. ( contain server and viewer)
1) copy exe to both pc
2) enter gmail account and password ( need to be the same on both sites)
3) wait until support led is green
4) The person who want to share his desktop press "show desktop"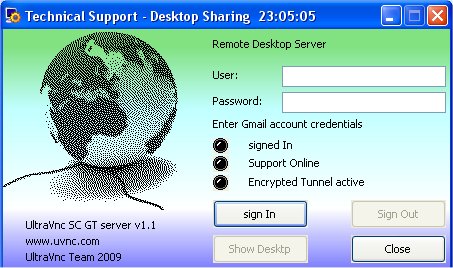 For the experts.
-The exe is a 7zip archieve.
-Text, background, logo ,icon can be customized.
-The server is the SC ( update august 2009)
-The viewer is the standard ultravnc 1065 viewer
-The Google Talk component is the nat2nat (
post #61784
) component modified for SC.
-Encryption is buildin DH key exchange
-socket comperssion is used ( the compression is adaptive, if data is already good compressed by vnc, it disable himself)
-Size is bigger ( 1MB) , archieve contain server and viewer
(What's the start time doing in the title)
When server and viewer run on the same pc, the title need to be different.
Adding the time insure it's different.
server connect to GT using port 9999
GT connect to viewer using port 5500
helpdesk.txt
--------------
changes are in
red
*localhost:9999 required for GT
*[GTALKACCOUNT] this preset the account, input box is removed if set.
User only need to enter the password
*[GTALKSUPPORTACCOUNT] this allow the user and support account to be different. You can use a different account on viewer and server site,
on the server site you put it in the helpdesk.txt
The
#
in front need to be removed, i used it to disable an option.
[TITLE]
Technical Support - Desktop Sharing
[HOST]
Technical Support
-connect localhost:9999 -noregistry
[TEXTTOP]
UltraVnc SC GT server v1.1
[TEXTMIDDLE]
www.uvnc.com
[TEXTBOTTOM]
UltraVnc Team 2009
[TEXTRBOTTOM]
notused
[TEXTRMIDDLE]
Enter Gmail account credentials
[TEXTRTOP]
Remote Desktop Server
[TEXTBUTTON]
More Info
[WEBPAGE]
http://www.uvnc.com
[TEXTCLOSEBUTTON]
Close
[BALLOON1TITLE]
Establishing connection ...
[BALLOON1A]
5 min try period
[BALLOON1B]
If it fails, the software will remove himself
[BALLOON1C]
from your system.
[BALLOON2TITLE]
Connection active.
[BALLOON2A]
Warning, your desktop is remote visable
[BALLOON2B]
You can break the connection any time
[BALLOON2C]
by using the close button
[ENTERCODE]
blabla
[DIRECT]
[SIGNIN]
signed In
[SUPPORTONLINE]
Support Online
[DESKTOPCONNECTED]
Encrypted Tunnel active
[BUTTONSIGNIN]
sign In
[BUTTONSIGNOUT]
Sign Out
[TEXTCONNECTBUTTON]
Show Desktp
[USERTEXT]
User:
[PASSWORDTEXT]
Password:
#[GTALKACCOUNT]
xxx@gmail.com
#[GTALKSUPPORTACCOUNT]
xxx@gmail.com
download:
http://www.uvnc.eu/download/uvnc_SC_GT.exe